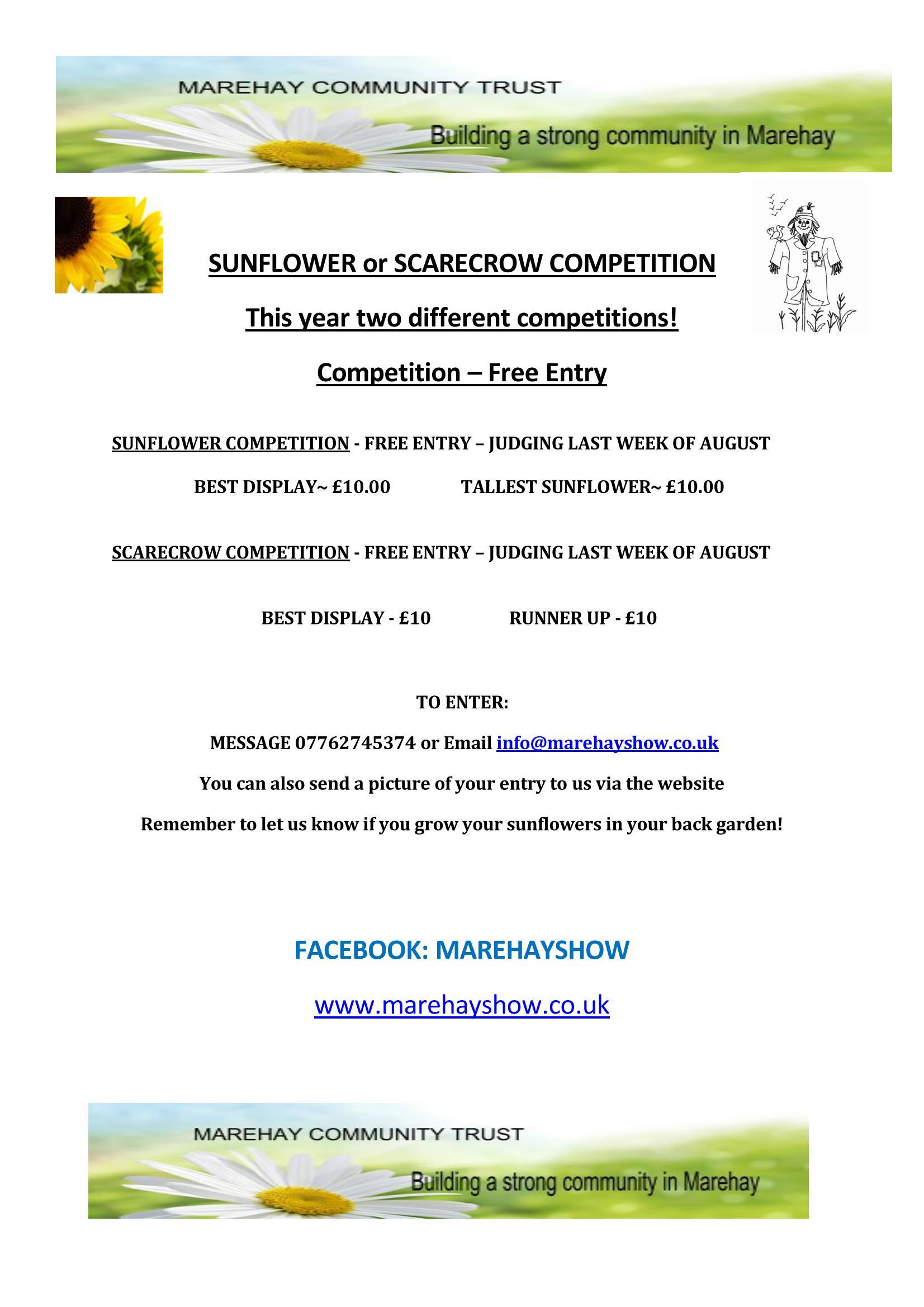 Application form for show classes. Please click on link to download
Staging of exhibits 8am - 10am only Judging 10am - 12noon
Entry fee
Entries are just 25p per exhibit, Children's entries to the Children's Classes are FREE.
Juniors to state age when entering. Entries to junior classes are split into age 8 and under and entrants aged 9 – 15 years old.
Prize money
Cards will be placed on exhibits following judging to indicate class winners and runners up. Prize money will be paid out from 4pm in the marquee. The cards are yours to keep and may be taken home with exhibits. Prize money must be collected on the day on presentation of a prize card or will be added to Marehay Community Trust funds.
Class Prizes 1st prize £3, 2nd prize £2, 3rd prize £1
Trophies
Points (3, 2 and 1) are awarded to entrants gaining 1st, 2nd or 3rd place. Trophies are awarded for entrants that gain the most points in each section (except Chrysanthemums), e.g. fruit, flowers, home produce and there's also a trophy for most points gained in show. Special awards are also available for Chrysanthemums, Floral Art, Leeks
Trophy winners will be announced and trophies presented on the day at a time to be announced.
All trophies are to be returned to the Village Inn or the schedule secretary by 1st week of August
The 2020 Marehay Village Show will take place at: Marehay Park junction Upper Marehay Road/Derby Road/Warmwells Lane and Marehay Chapel, Warmwells Lane, Marehay, Ripley, DE5 8HW. See the map below.
---
Show Day events locations
Main arena Marehay Park
• Children's games • Folk dancing • Dog show • Children's fancy dress • Vehicle display • Live music • Bouncy castle
Staging of exhibits: Marehay Park arena
• Fruit • Vegetables • Flowers • Chrysanthemums • Plants • Floral Art • Junior Section
Exhibits to be staged at Marehay Chapel: • Home Produce • Handicrafts• Creative Arts
Refreshments
Refreshments including hot drinks, teacakes, jacket potatoes and cream teams will be served at Marehay Chapel on the day. A bar is available on Marehay Park together with soft drinks/ice cream/Teas
Marehay Show 2022 Classes
Trophy

FRUIT










1

Cooking apples - 4








2

Dessert apples - 4








3

Berry fruit










4

Stoned fruit










5

Any fruit not used in other classes (mixed accepted)




Trophy

VEGETABLES








6

Tomatoes - 5








7

Tomatoes - 9 (small fruited)






8

Runner beans - 6








9

French beans - 6








10

Long carrots -2 (tops trimmed to 75mm)




11

Stump rooted carrots -2 (tops trimmed to 75mm)




12

Onions - 3 (with tops grown from plants)




13

Onions -3 (with tops grown from sets)






14

Onion -3 (250 g maximum dressed with raffia)




15

Heaviest onion -1








16

Shallots - 5 (dressed with raffia)






17

Beetroot -3 (trimmed)








18

Parsnips -2 (trimmed to 75mm)






19

Potatoes - 5 (any variety)








20

Cauliflower (with stalk dressed to 75mm)




21

Marrow -1










22

Cucumber -1








23

Any other vegetable not in other classes




24

Trug/Tray of mixed vegetables not exceeding 50cm X 30cm

Award

Leeks - 2










26

Longest runner bean








27

Bunch of herbs (5 of single/mixed)






28

Cabbage (with stalk dressed to 75mm)






Trophy

FLOWERS (provision made for staging onsite)




29

Vase of 5 roses








30

1 rose bloom








31

3 pompom dahlias








32

3 bloom(small) dahlias








33

3 blooms(medium) dahlias






34

3 blooms(large) dahlias








35

1 gladioli spike








36

Any cut flower 3 of a kind








37

Any spike bloom or spray








38

Cut flower display from the garden






Award

CHRYSANTHEMUMS (provision made for staging onsite)

39

1 vase 3 intermediate








40

1 vase 3 incurved








41

1 vase 3 reflexed








42

1 vase/bowl staged for effect ,any variety




43

1 vase sprays,any variety








Trophy

PLANTS










44

1 pot plant flower or fruit








45

1 foliage pot plant








46

1 pot cactus or succulent











PLANTS (cont)

50

Cheese scones - 3




51

Loaf of Bread (Not machine made)




52

Victoria Sandwich (any filling)




53

Muffins - 3




54

Chocolate Cake




55

Mincemeat tart




56

Chocolate Brownies - 3




57

Ginger Cake






58

Lemon Drizzle Cake




59

Jar of homemade Jam




60

Jar of homemade Chutney

Trophy

HANDICRAFTS




61

Knitted Baby's Garment




62

Embroidered / Cross Stitch Item




63

Crocheted Item




64

Handmade greeting card (no kits)

65

Quilted Item




66

Item made from recycled material




67

Item Made from Natural Products eg Wood,Straw,Reeds,etc

Trophy

CREATIVE ARTS




68

Pen & Ink , Charcoal , Pencil Drawing

69

Water colour painting




70

Oils or acrylic painting




71

Poem - 'Jubilee'




72

Photograph - 'Jubilee Celebration'




73

Photograph - 'Roof scape'




74

Photograph - 'Close up'




75

Photograph - 'Grumpy Old Men'

Trophy

JUNIOR SECTION






(All children's classes - Prizes awarded in 2 age categories)




(7 years and under , 8 to 15 years) Child's age to be put on entry

76

Model that represents a story or nursery rhyme




77

Make your own bird feeder




78

Build your own superhero/character




79

Make a piece of jewellery that includes a natural material

80

Make and decorate a Gingerbread person




81

Handmade birthday card




82

Write a poem about the seasons




83

A flower arrangement in an egg cup




84

Make an animal from vegetables/fruit